Related Downloads
In 2016 we published our thematic review (link provided below) on FAIs which made 12 recommendations to improve the efficiency and effectiveness of deaths investigations and the FAI process. This follow-up review aims to assess and report on the progress that has been made against our recommendations.
Related Links
Additional
Chapter 1 – Investigation of Deaths By Crown Office and Procurator Fiscal Service (COPFS)
Role of COPFS 1. The primary purpose of the investigation of sudden, suspicious, unexpected and unexplained deaths is to ascertain a cause of death, although there are a number of other aims of the investigation, including:
To ensure any criminality is discovered and where appropriate, prosecuted;
To allay public anxieties about particular deaths;
To alert family members to any genetic causes of death, which may be avoidable; and
To maintain accurate death statistics.
Scottish Fatalities Investigation Unit (SFIU)
2. In April 2012, SFIU assumed national responsibility for investigating all reported non-suspicious deaths. Their role is to investigate and prepare all death reports to the highest possible standard, to apply policy and practice consistently, to ensure that appropriate and timely decisions are taken in every case and progress deaths investigations expeditiously.
3. Within SFIU there are three geographical teams – SFIU North,[19] SFIU East[20] and SFIU West.[21] SFIU National oversees the work of all teams, including monitoring all potential FAIs, the progress of investigations and the timeliness of holding FAIs and has input on policy matters relating to deaths.
Reporting of Deaths
4. While the police are the main source of reports submitted to COPFS, there are other agencies that have particular technical expertise to investigate and report specific types of deaths.
5. The Health and Safety Executive (HSE) and Local Authorities are responsible for the reporting of health and safety breaches to COPFS, including those that result in fatalities. Investigations involving air, rail and marine accidents with potential multiple fatalities, are high profile and of considerable public concern. Specialist investigatory bodies with particular expertise in these areas are responsible for investigating the cause of such incidents. The Air Accidents Investigation Branch (AAIB) investigates civil aircraft accidents and serious incidents within the UK, its overseas territories and Crown dependencies. The Marine Accident Investigation Branch (MAIB) has a similar role to the AAIB for marine accidents within UK waters and accidents involving UK registered vessels worldwide and the Rail Accident Investigation Branch (RAIB) for rail accidents.
6. While COPFS has no authority to direct these investigations, it is dependent on the outcome of such investigations prior to considering the possibility of criminal proceedings or an FAI.
Health and Safety Division (HSD)
7. While the majority of deaths are investigated by SFIU, fatalities arising from potential breaches of health and safety legislation are investigated and, where appropriate, prosecuted by the national Health and Safety Division (HSD). On occasion they will also conduct FAIs.
Road Traffic Fatalities Investigation Unit (RTFIU)
8. All road traffic cases which result in death are investigated by SFIU and if a prosecution is instructed the case is prepared and prosecuted by the specialist Road Traffic Fatalities Investigation Unit (RTFIU).[22]
Homicide Team
9. Where there is evidence that the death occurred as a result of criminality, the homicide team will assume primacy of the investigation.
Police Investigations and Review Commissioner (PIRC)
10. PIRC was established at the same time as the single Police Service of Scotland. Its role is to independently investigate incidents involving the police and review the way the police handles complaints from the public. Incidents involving the police may be referred by COPFS including deaths in custody and allegations of criminality. Any PIRC investigation will be taken into consideration as part of the SFIU investigation.
Investigation of Deaths
11. Deaths are most commonly reported to the procurator fiscal by hospital doctors, General Practitioners (GP)[23] and the police. Once a death has been reported, COPFS has legal responsibility for the deceased's body, until a cause of death has been established.
12. The reports are sent to the SFIU team that covers the geographical area where the person died. In many cases, after a brief discussion or minimal enquiry, a medical practitioner will issue a certificate specifying the cause of death. Such deaths are categorised as "routine deaths".
13. In other cases, additional information and investigation may be required prior to the cause of death being ascertained. In carrying out its investigations, SFIU will review the evidence, including the post mortem and other medical reports. Statements may also be taken from witnesses; documentation may be obtained from relevant organisations and reports commissioned from specialists or experts in particular fields. Such deaths are categorised as "deaths requiring investigation". In recent years, more extensive investigation has been necessary in the majority of deaths reported. In 2018/19, 70% of deaths required further investigation.[24]
14. This is due to:
An evolution in the public's attitude to death, with a greater expectation of being involved in all important decisions regarding the death of nearest relatives and receiving a full explanation of the circumstances of the death;
The increasing complexity of such investigations with advances in medical science and more sophisticated means of detecting the cause of accidents; and
A changing landscape with an increasing number of regulatory and scrutiny bodies that have a duty to investigate a wide spectrum of different types of deaths.
15. Once the evidence has been gathered, decisions will be made on how to proceed, including whether criminal charges should be pursued or an FAI should be held.
16. FAIs vary enormously in their nature and complexity. They can range from inquiries into the death of a person in custody by natural causes, where there are no issues of concern, to inquiries involving complex medical matters or technical inquiries into the cause of a helicopter accident.
Performance Target
17. COPFS has a published performance target to investigate cases which require further investigation and inform the nearest relatives of the outcome within 12 weeks of the receipt of the death report in at least 80% of cases.
18. It also has an internal Key Performance Indicator (KPI) to close 90% of death cases within six weeks of receipt of the death report where no investigation is required.
19. Annex A provides a flowchart outlining the role of COPFS in the investigation of sudden, suspicious, and unexplained deaths and the various stages of an FAI.
Death Reports
20. Chart 1 illustrates the number of deaths reports received by COPFS between 2010/11 to 2018/19. In the thematic report there was a decrease of 30% of death reports received between 2010/11 and 2014/15. Since 2014/15 there has been a 3% increase in reports received.
Chart 1 – Death Reports Received[25]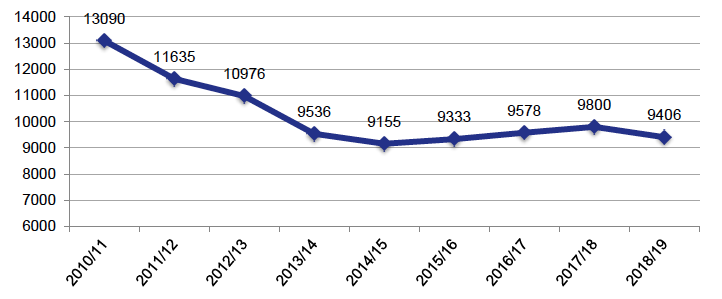 21. Charts 2 and 3 demonstrate the number of routine deaths and deaths investigated by COPFS between 2010/11 to 2018/19.
Chart 2 – Routine Deaths[26]

22. Chart 4 illustrates the number of routine deaths and deaths investigated as a percentage of death reports received – routine deaths have increased by 6% from 2014/15 to 2018/19, while those requiring investigation have decreased by 8% over the same period.
Chart 4 – Deaths Investigated/Routine Deaths as % of Reports Received[28]
Performance Target
23. SFIU has met their target to investigate cases which require further investigation and inform the nearest relatives of the outcome within 12 weeks of the receipt of the death report in at least 80% of cases every year since 2015/16. It was met in 92% of cases in 2015/16 and in 90% of cases in years 2016/17 to 2018/19.[29]
24. SFIU has also regularly met the KPI to close 90% of death cases within six weeks of receipt of the death report where no investigation is required. In 2018/19, 97% of such cases were closed within six weeks.[30]
FAIs
25. Many deaths requiring investigation do not result in an FAI. There have been 131 FAIs held between 2016/17 and 2018/19. Chart 5 demonstrates the number of FAIs held from 2012/13 to 2018/19[31] with a peak of 74 in 2014/15 decreasing to 37 in 2018/19.
Chart 5 – FAIs[32]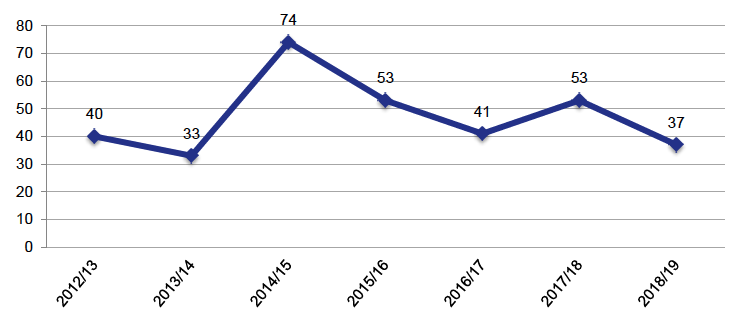 26. The number of FAIs remains extremely low, representing 0.6% of deaths investigated between 2016/17 to 2018/19.
Mandatory FAIs[33]
27. There were: 37 mandatory FAIs concluded in 2016/17; 45 in 2017/18 and 37 in 2018/19, totalling 119 over the three year period.
28. Of the 119 mandatory FAIs, 45 concerned deaths that occurred in the course of employment and 74 while the deceased was in legal custody.
Discretionary FAIs[34]
29. There were 12 discretionary FAIs over the same period.
30. Chart 6 provides a breakdown of the type of FAIs and by SFIU geographical teams.
Chart 6 –Type of FAIs and SFIU team 2016/17 to 2018/19[35]